Fast-acting firefighters managed to control a huge fire that broke out at the Abbco Tower in the Al Nahda area of Sharjah on Tuesday night.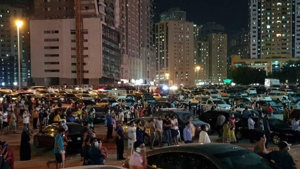 © Shihab/Khaleej Times
Seven people were treated at the site, while five others were rushed to hospital to be treated for suffocation.
Colonel Sami Al Naqbi, Director-General of Sharjah Civil Defence, said that they had been alerted to the fire, the cause of which is yet to be determined and which erupted on the 10th floor of the Abbco Tower, at 9.04pm.
Thanks to the quick and efficient work of firefighters, the blaze was brought under control at 11.55pm.
Civil Defence staff from stations such as Mina and Al Nahda were deployed to douse the blaze following a call to the police operations room.
Col. Al Naqbi said the quick response of firefighters had helped saved the lives of tenants, as they immediately evacuated neighbouring buildings to prevent suffocation cases.
The blaze had spread beyond the 10th floor of the building, he said.
The fire also damaged a number of cars parked in the area, as debris and flames were blown on to them by strong winds.
More than 250 families were evacuated from the 49-storey building, which consists of 36 residential flats and 20 levels of car parking, and which was constructed in 2006.
The fire was brought under control three hours after the Civil Defence received the first fire alert.
A leading Sharjah Police official said eight patrol cars had rushed to the site to support the firefighting mission.
Police cordoned off the area and diverted traffic to safer lanes.
Officers also used drones to ensure that no-one was trapped inside the building.
They have also started working with competent authorities to provide shelter for the families of affected buildings.
Eyewitnesses shared their accounts of the horrific ordeal with Khaleej Times.
Ghada Amin, a resident on the 16th floor, said that after iftar, she and her family had watched television in the majlis and smelled the blaze. They opened a window and their flat filled with smoke, at which point they heard the building's smoke alarm.
She said: "Some people knocked at our door, asked us to leave and I just grabbed my two sons. My husband took all our documents and money and then went down the stairs, which were crowded with people from the higher floors. Thank God we are safe.
"We are now sitting in our car until the authorities notify us to do otherwise, or if it is safe to go back to our flat."
Ramona Sunder, another tenant, said that she was staying with her friends on the second floor. She said that when they heard noise of people and the alarm, they all ran outside after hurtling down the stairs.
"We left everything inside as we didn't know what to do," she said.
"We even had to leave our national IDs in our purses in our flat. We are all working ladies sharing the apartment and none of us has a car. "We are now sitting in the street, but police officers said they will help us."
Another tenant, Asif Imran, added: "While we were performing prayer, we heard knocking at our door alerting us of the fire. We all took everything and rushed down [the stairs].

"I will spend the night at my brother's house in Al Qasimia and come back tomorrow to check the condition of the flat, as long as it's safe for us to come back."